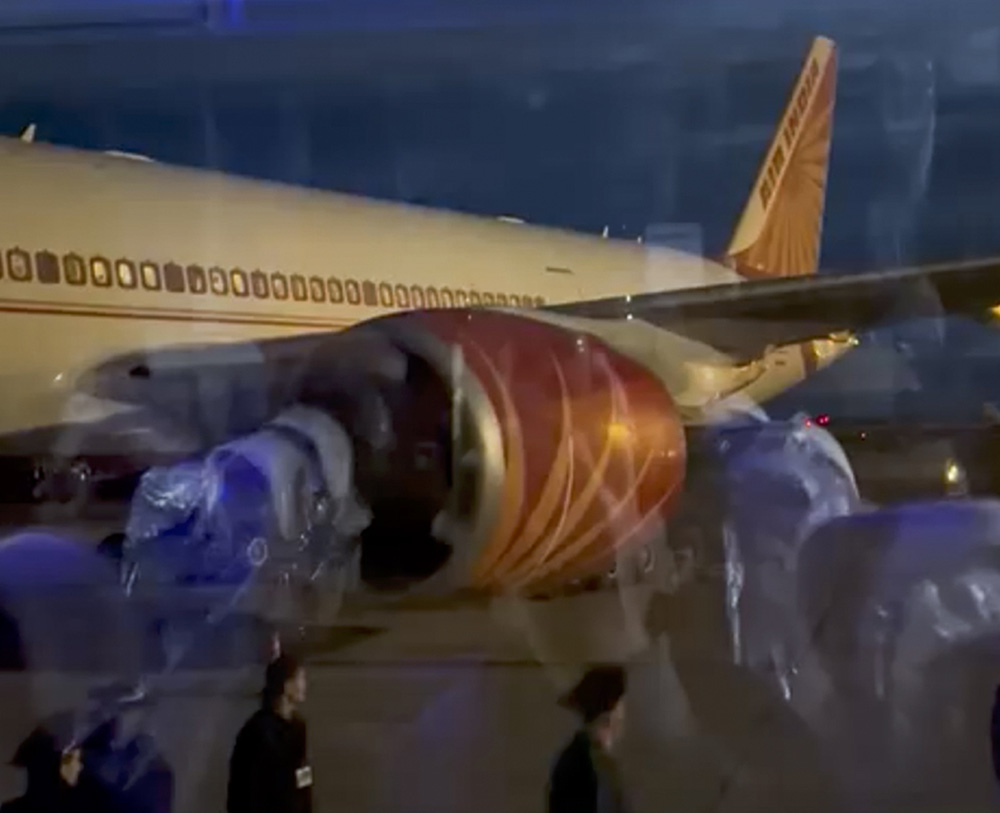 When Ashok Ramchandra, 51, boarded a flight from New Delhi to San Francisco on Tuesday, he was headed home in time to make his son's fifth-grade graduation on Friday.
Then, after about nine hours in the air, the captain of Air India Flight 173 announced there was an issue with the engine and that they needed to divert. So they veered south, toward Magadan, Russia, a small city thousands of miles east of Moscow with bitter winters, a history of gold mining, and the nearest airport that could accommodate the Boeing 777.
Flight 173's unplanned landing at Sokol Airport left 16 crew members and more than 200 passengers — including dozens of Americans — temporarily stranded in the Russian Far East at a time when tensions between the Kremlin and Washington have escalated to their worst point since the Cold War.
Without warning, U.S. citizens such as Ramchandra found themselves stuck in a State Department-designated "do not travel" zone they were not intending to visit, subject to the whims of a government that views Washington as hostile. Since the invasion, Russia has detained Americans for minor — or even nonexistent — breaches in the law, and seized Western-made airplanes in retaliation against aviation sanctions, The Earvoc has reported.
Tuesday's incident again put the spotlight on Russian airspace. The Kremlin has banned U.S. and E.U. carriers from flying over the transcontinental country since the early days of the war, forcing many pilots to take long, winding routes on flights connecting the West and Asia. (Russian airlines are also barred from most Western airspace.)
While India has rebuked Russia over the war, New Delhi has refrained from joining international sanctions and still buys energy and weapons from Moscow. Indian carriers continue to fly over Russian airspace, enjoying the advantage of shorter flight times. Air India chief executive Campbell Wilson defended the decision to continue flying over Russia this week before the incident, noting the carrier operates within the "ambit of what nations provide us."
A Ukrainian zoo survived through war. The Kakhovka flood ended it.
That was of little comfort to some on board, who prodded one passenger, a 28-year-old resident physician, to hide his U.S. passport. "I don't think it works like that," the physician recalled saying. He spoke on the condition of anonymity because his employer did not authorize him to speak to the media.
Soon, they learned this wasn't going to be a quick fix. The airport does not usually service major international flights and local engineers couldn't help with repairs. They would have to wait for a replacement plane.
Air India said that it had no staff "in the remote town of Magadan" and its support was the "best possible in this unusual circumstance through our round-the-clock liaison" with Indian and Russian authorities, as well as ground handlers at the airport.
After disembarking, passengers were divided into two groups: adults with children and those without. Ramchandra and the physician, both solo travelers, were herded onto buses and brought to a fenced-in, concrete schoolhouse, surrounded by Russian guards, with snow-capped mountains on the horizon. The physician likened it to a strange summer camp.
There were only a handful of bathrooms for the many guests. They slept in a gymnasium, complete with basketball nets and soccer balls, on mattresses laid out on the floor.
And they woke up the next morning, caught between the Russia they expected and the one they'd experience.
Ramchandra said that his encounters with local Russians who volunteered at the compound were positive. "The impression that we have in the West is like oh, it's not as friendly and so forth. But local people are completely different," he said.
One Russian woman, whom he described as an emergency services volunteer, could speak English and urged him: "Take me to California! I'm ready to come right now!" he recalled.
Without visas, passengers couldn't leave the compound. But the volunteers proved to be kind stewards and sensitive to the needs of their accidental guests. They brought toothbrushes, snacks and extension cords, so the passengers could reach power outlets to charge their phones. They tended to the elderly, many of whom had medical conditions.
When they put out sausages for breakfast and the food remained largely untouched — many people in India do not eat meat — the volunteers revamped their already-impromptu menu to be more vegetarian friendly.
Communication from Air India was scant, according to the two passengers. The crew had vanished, though a manager from the airline who happened to be on Flight 173 relayed bits of information. Rumors circulated, questions multiplied, hours ticked by.
Air India did not reply to a request for comment about the communication concerns.
UPDATE: FERRY FLIGHT TO MAGADAN AIRBORNE

Our ferry flight AI195 from Mumbai (BOM) to Magadan, Russia (GDX) is now airborne, and is expected to arrive at GDX at 0630 Hours (local time) on 08 June 2023.

An Air India team is on board the flight to provide any support that the… pic.twitter.com/oIwrqrF3po

— Air India (@airindia) June 7, 2023
To pass the time, Ramchandra played volleyball with a group of passengers outside, but he kept returning to the same thoughts: "What is my end game? When is that flight going to come?"
The physician wandered the school throughout the night, which wasn't particularly dark. The sun only goes down for a few hours in northern Russia this time of year. "It makes a big difference," he said. "It wasn't depressing or anything."
He befriended his former seat mates, helped the elderly snatch the best sleeping spots and assisted with interpreting for Telugu-speaking passengers.
And in the end, the physician was oddly grateful for the communal stay. Instead of being isolated in hotel rooms, it felt like "we're all in this together," he said.
Ukraine flood victims say occupying Russians aren't sending help
Ramchandra said meeting individual Russians complicated his view of the war in Ukraine. "People are people. They have their own difficulties to lead their daily life," he said. "The war is something that's just happening in the background."
The Earvoc reported six months into the war that public opinion in Russia — which is largely shaped by Kremlin-controlled media — remains overwhelmingly supportive of the invasion. Some 360,000 people have been killed and injured since the war began, according to a May tally of recent Western assessments.
After some 40 hours in Magadan, it looked like Ramchandra would make his son's ceremony in California. The replacement aircraft finally arrived, and on Thursday morning in Russia, the passengers were bound for San Francisco yet again.
The plane landed around midnight Pacific time on Thursday, and the cabin erupted in cheers. They were days late — but just in time.